Catie Prendergast and Hana Raskin | believe me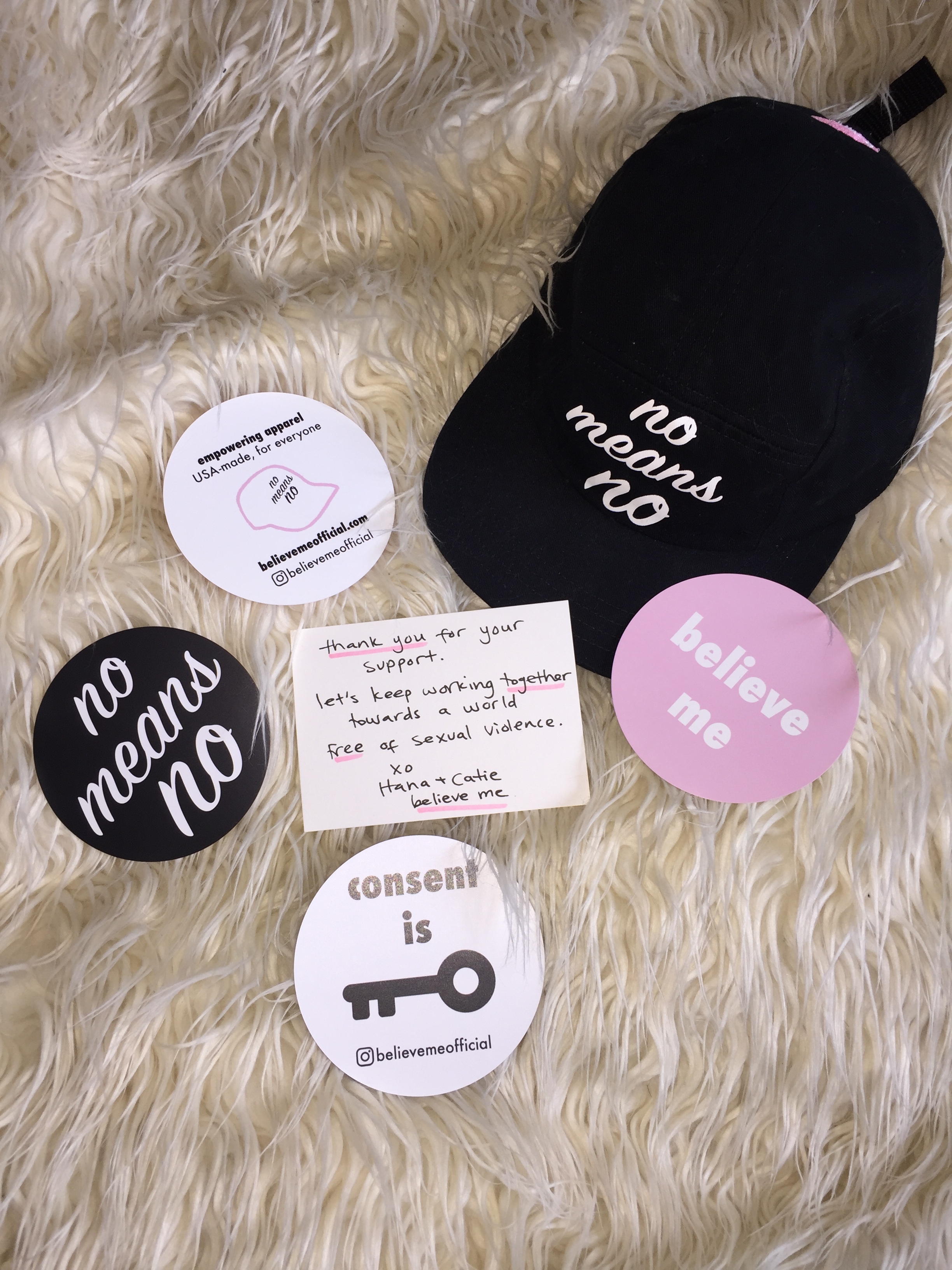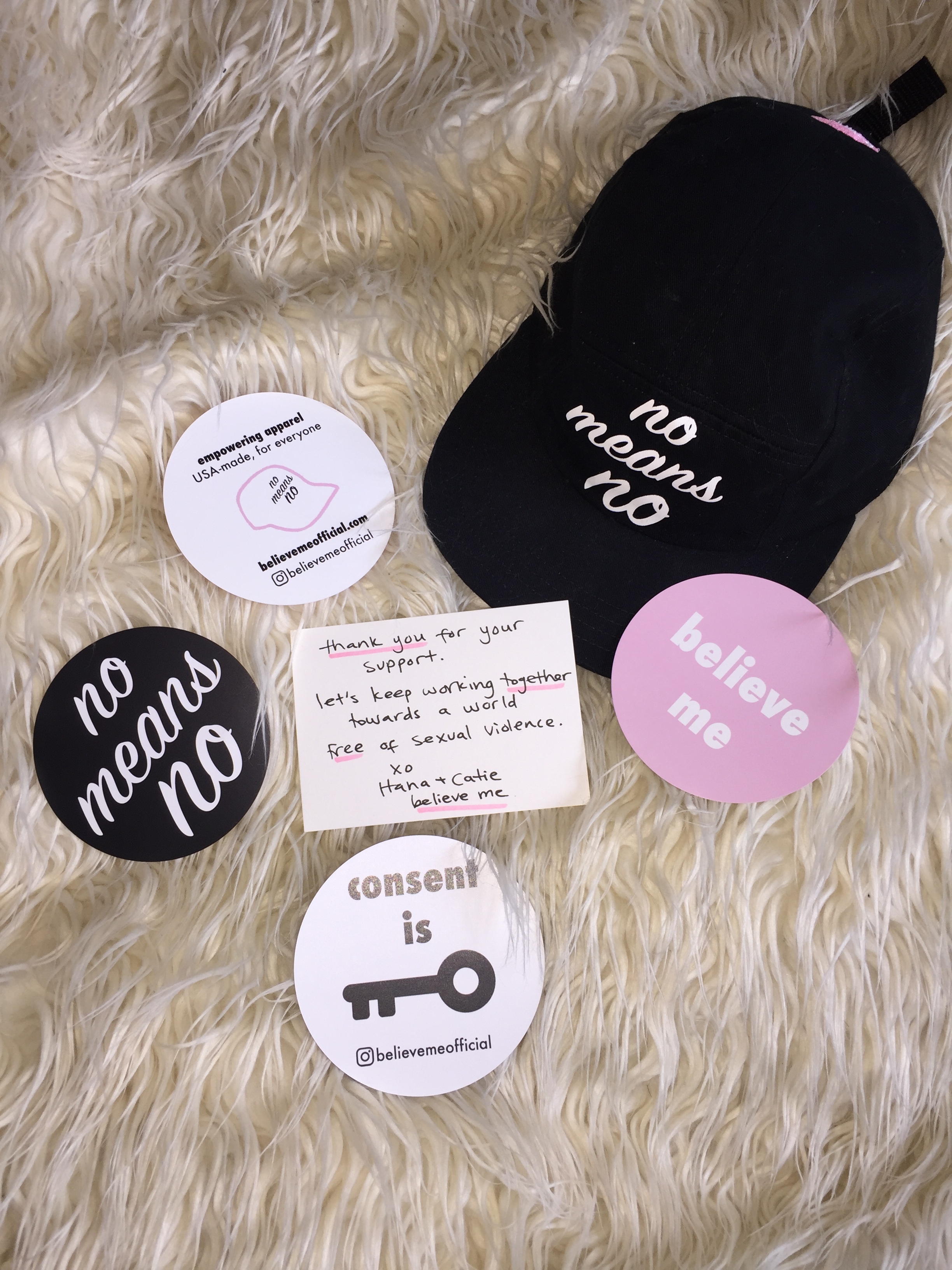 While we believe in the importance of discussing these subjects, we are aware of the sensitive nature pertaining to topics like sexual assault, sexual violence, and rape. If you choose to read the following piece, please be aware that the founders of believe me will be discussing their efforts to educate people about sexual violence and pro-consent. We ask that you use discretion and recognize your own boundaries.
LFC: Introduce yourselves and believe me:
believe me is the brainchild of Hana Raskin (HR) and Catie Prendergast (CP), both native New Yorkers who came up with the idea one day at their favorite summer spot, Rockaway Beach. Catie is a writer who always secretly wanted to design clothes, and Hana is a student of Global Gender Studies at NYU who wants to right some of the wrongs she is learning about.
HR + CP: We were both sick of the normalization of sexual violence and decided to do something about it. believe me is an apparel company with designs featuring anti-sexual violence and pro-consent messaging to empower people and start a dialogue, with everything made in the USA. Our first collection of hats gives 1/3 of profits to the NYC Alliance Against Sexual Assault and we'll have a new collection soon for an upcoming collaboration with Project Consent.
LFC: How did the two of you meet? What were the first steps for the two of you when deciding you wanted to start a business together?
HR: We actually met in Middle School, during our awkward period of braces and acne, but became close years later during college. After college, we lived in Seoul for a year, then moved back to New York where we worked 9-5 office jobs.
CP: One weekend in summer of 2016, we met up at the beach. I was wearing a hat that I had designed that said, "no means no" and Hana was taken aback by the strength of the message. She immediately proposed selling them to raise money for organizations fighting sexual violence.
HR: Honestly neither of us thought twice about starting a business together. Two weeks later we were swimming in paperwork we didn't understand.
LFC: What did you want to be when you grew up? How has the changed now that you've started your career journeys?
CP: Ever since I was little I wanted to be a writer, then in high school I started to get into fine arts, and now I'm committed to making a positive impact. I feel really lucky that believe me allows me to do it all. In addition, I work as a copywriter and a very-hopefully-fingers-crossed-soon-to-be author of children's stories!
HR: When I was really little I wanted to drive an ice cream truck. Later, I wanted to be a travel writer because I had this insatiable wanderlust and wanted to get paid to travel. I ended up staying in the communications field, which is what I studied, but realized that I wanted to do something where I touch lives more directly. believe me is bringing me one step closer to that; that's also why I'm back in school and hoping to work for a feminist organization.
LFC: Sexual violence has been a major topic of conversation in recent years, especially with our current President. If the two of you could send any message about sexual violence and pro-consent knowing it would reach millions of people, what would you say?
CP + HR: We need to change the culture and the education around it. Rather than teach people how to prevent/defend against rape, we need to teach people not to rape. Part of this is making sure that there are consequences for people who have committed acts of sexual violence regardless of their athletic ability, how many sitcoms they've been on, or how great their most recent movie is.
Sexual violence can ruin or at least negatively impact the lives of victims, but for some reason the system is more concerned about not "ruining the life" of the perpetrator/aggressor. That needs to change.
LFC: What is the biggest myth you two would like to shatter about sexual violence and assault?
CP + HR: Sexual violence is a spectrum: behaviors that are often deemed harmless, and are experienced daily, such as "catcalling," suggestive comments in the office, and other forms of harassment that objectify peoples' bodies and make them feel unsafe in public spaces, are in fact harmful and are part of the bigger problem of rape culture. Nobody has a right over anybody else's body.
LFC: How did you choose the NYC Alliance Against Sexual Assault?
HR: My mom was actually the director of a rape crisis program at a hospital here in New York, so when we started working on this project, I asked her where she thought our money would have the biggest impact. She immediately thought of The Alliance. The Alliance is an umbrella organization in NYC that advocates for policy to better serve victims. They work closely with rape crisis centers here in the city. It just seemed like the perfect place for our money to go to make a positive difference in our hometown.
CP: We also have a collaboration coming up with Project Consent, who is running an amazing campaign to raise awareness about sexual violence and the importance of consent. It was started and run by college students; they're such a passionate group of young women, so we're really excited about that.
LFC: What do you want to see more of in the world? What do you want to see less of?
CP + HR: We would love to see people believe in themselves more and question themselves less.
LFC: What keeps you up at night?
CP: Not having enough time to do all the things I want to do.
HR: Not having curtains (haha). No really, what keeps me up is thinking of things I feel like are unsettled in my life.
LFC: And, on a traditional LFC note, tell us what being an #entrefemmeur means to you.
CP + HR: As women, it's so empowering to have something that is completely ours; being our own bosses and not taking direction from anyone else. Being entrefemmeurs has made us even more aware of how important it is to support other women in their endeavors (that's why we love you guys!)
You can learn more about believe me via the website and Instagram.
Comment your thoughts below, or submit your own story:
Catie Prendergast and Hana Raskin