Creative Girl Gang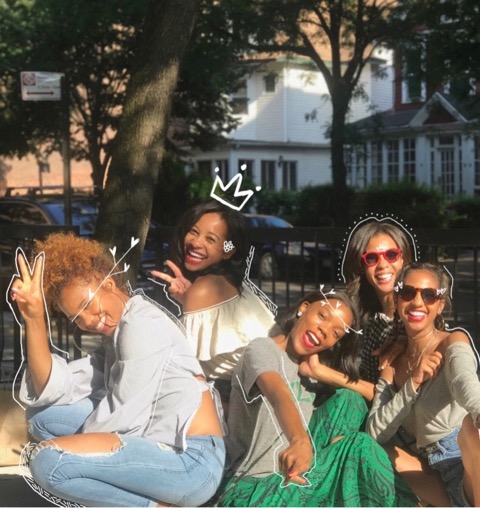 LFC: What is the Creative Girl Gang? What led to the creation of it?
CGG: Creative Girl Gang is an exclusive alliance of women who empower and support each other on their journey to creative self-discovery and entrepreneurship. The craziest thing about the start of CGG is that it simply started as a name, nothing more. We are all friends, bosses in our perspective industries, and one day after we had all just hung out, Brittney sent us this fake mock up business cards and they said, "Creative Girl Gang" with each of our names. From there Ashley immediately suggested we check to see if anyone had that name and to our surprises no one did! I think that made all of our creative juices started flowing …. almost overflowing. haha. Dani has always spoken about us doing something collaborative and think that we all quickly realized this was going to be so much more than a cute name, the real ideas hit. Shema envisioned CGG as a space (figuratively, initially… and for now) where creative women could feel comfortable sharing their ideas and that inspired Chandler to come up with our first tag like…"A Creative Hub for Creative B******"
LFC: Creative Girl Gang offers a plethora of services for the working woman who's making it work - why these services?
CGG: First and foremost we want to make sure that the services we are offering our girls are areas that we are knowledgeable in because we do not want to steer our girls in the wrong direction. So Ashley has a background in Graphic Design and Brand Development, Brittney's background is in Marketing and Creative Direction, Chandler's background is in Fashion (Merchandising and Styling) and Journalism, Danielle's background is in Fashion (Merchandising and Buying) and Photography and Shema's background is in Design and Illustration. So after that you can see why we went this route with the services, we're creatives and entrepreneurs ourselves, we've learned so much and we just want to help our girls thrive and get their coins.
LFC: Social media platforms have become a large part of how younger generations use their voices to speak up and speak out. How has CGG used their brand and business to create change for working women?
CGG: There would be no Creative Girl Gang if there were no social media. Social media has been such a pivotal asset to how we reach our girls. Though we are a company, we never want to seem so big that we lose the essence of being personal. We use social media to connect with our girls, talk to them, advise them, connect them with one of another. One of the most beautiful moments we had on social media happened when we asked our girls, "How Can We Support You" and we could have never predicted the love fest that happened in the comments, it was beautiful, it was women supporting women and that's what we are all about.
LFC: What tools or platforms have any of the CGG team used that have been successful in business development and management?
CGG: This will sound so basic but we honestly live for Google Drive, it's 5 of us, 3 different homes, 2 different states, and 5 different lives outside of CGG so we have to stay organized by having a drive with everything in it. We also use the Trello app for our to-do list. UMUN to help us curate the perfect IG feed.
LFC: Tell us about the CGG audience - whether it be the members or the social community. What can we expect from these women?
CGG: Most of our CGG members are working women looking to get their foot in the creative industries of their choice - but still clocking in and out of a 9 to 5. We hope that thru our VIP membership and the providing of resources throughout each month we can get each one of these women to transition more of their time from a 9 to 5, to entrepreneurial, creative based careers. A few of our members are launching new businesses as we speak so you can expect to see new bakeries, coffee table books and even youtube channels launching in the new future from a few of our ladies!
LFC: What do you want to see more of in the world? What do you want to see less of?
CGG: We want to see more women supporting women and less of a need to be catty and compete. We believe in COLLABORATION OVER COMPETITION. We want to see a lot fewer males getting handed creative positions - and women getting fair pay in these positions.
LFC: How is it working with an all-girls team?
CGG: We honestly wouldn't want it any other way. We all bring something so unique and special to the organization and Creative Girl Gang is for women, so it's only right. But of course it has its challenges, it's 5 of us - that's a lot plus our 3 amazing interns Kassandra, Lenae and Alexis. Even though it can be overwhelming at times, we all make it work and we know we're creating something so much bigger than ourselves.
LFC: What's currently sitting on some of your desks? Send us some pictures!