Kate Webster and Morgan Krieger | I Love Nice People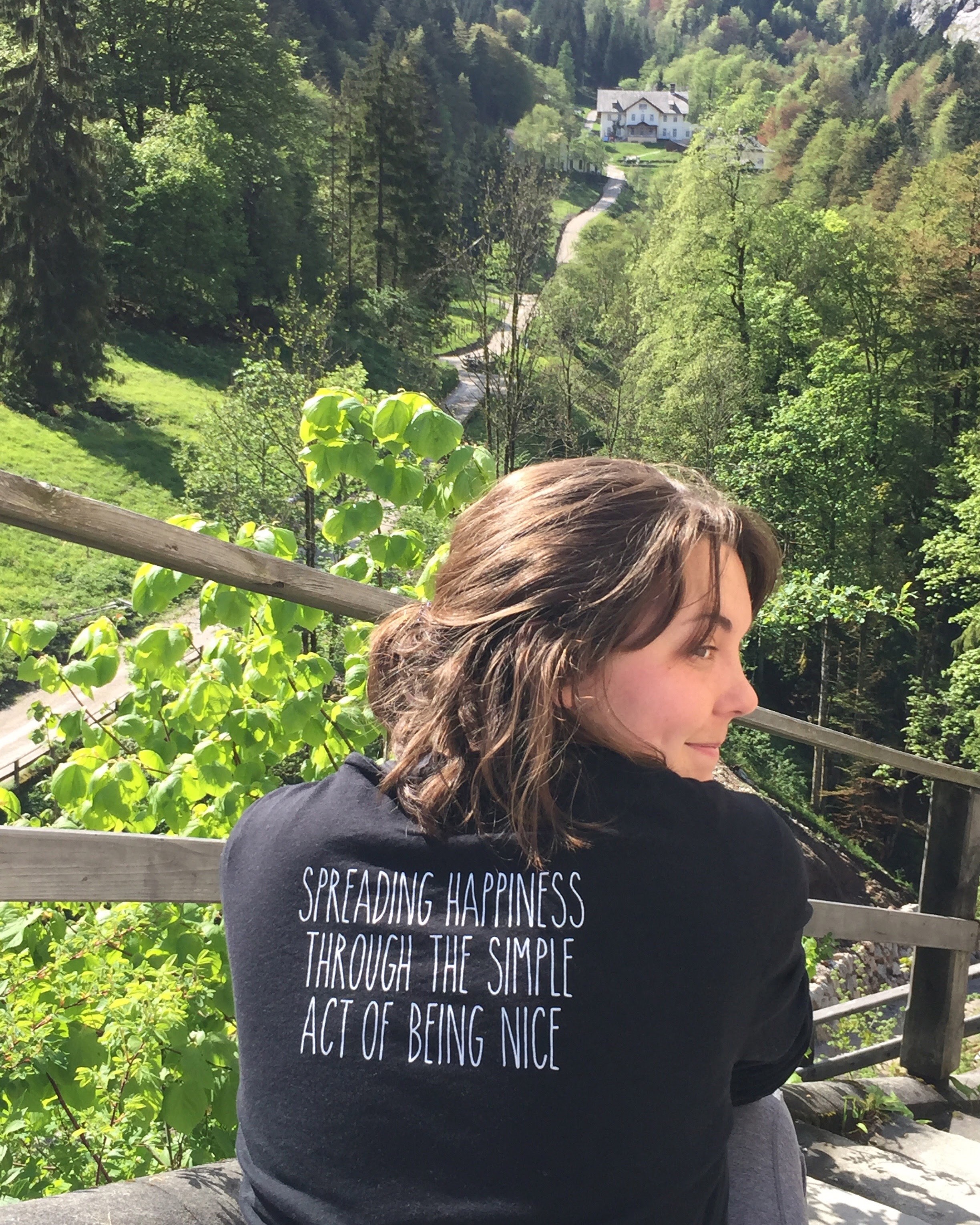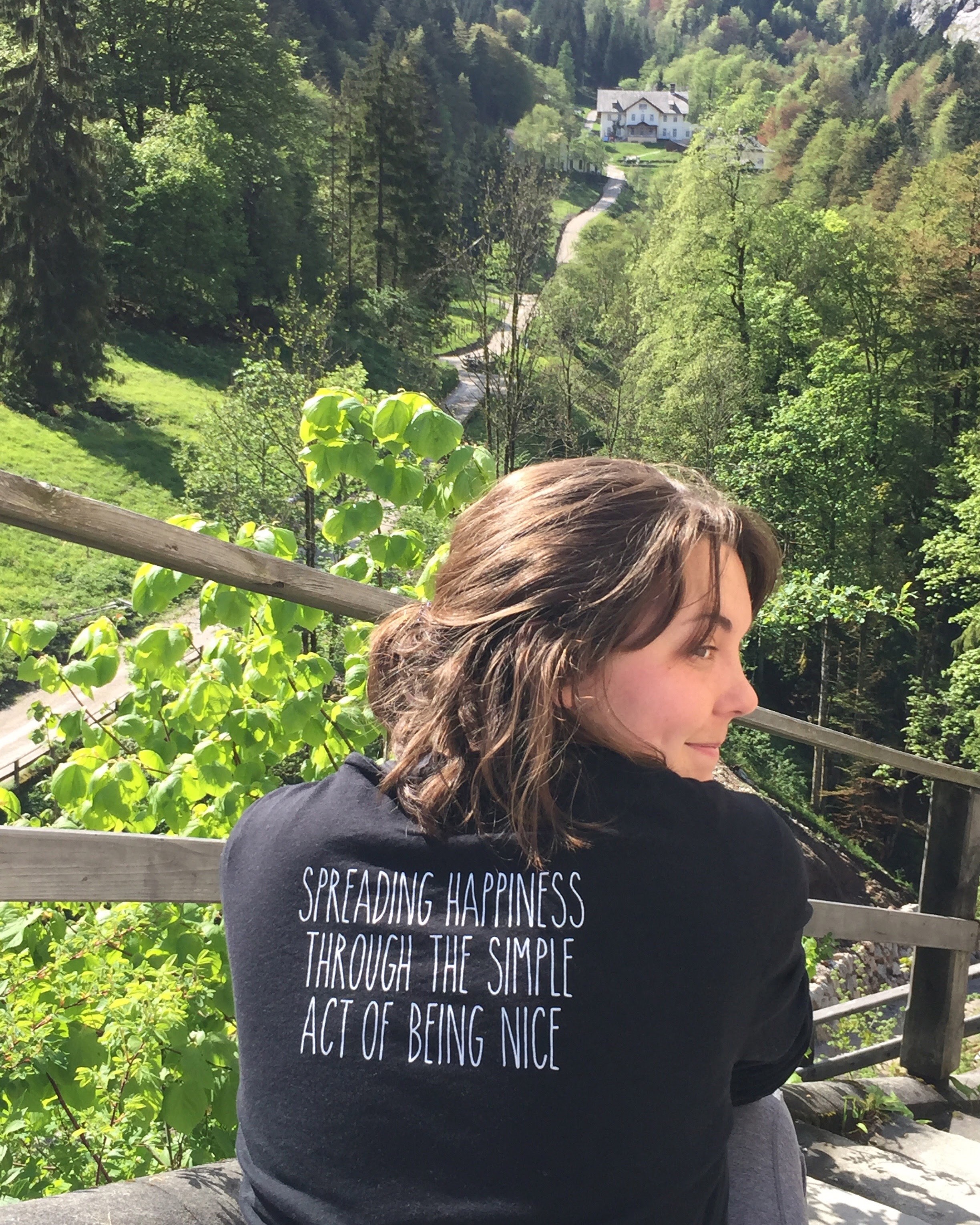 I Love Nice People is a clothing line started and inspired by the idea that "if people encounter the phrase "I Love Nice People," in their everyday lives, the act of being nice will subconsciously become engrained. We are hopeful that this expression will eventually change people's attitudes and perceptions toward each other. We design and sell apparel and accessories with the simple phrase, "I Love Nice People." We hope that by being exposed to the phrase, whether you are passing by it or wearing it, a thoughtful reaction will occur and make you act with kindness in your everyday encounters."
We often talk about putting things out into the universe. Are you searching for a job? Put that energy out into the universe. Are you feeling happy, sad, or confused? Put that feeling out into the universe, find comfort in the unknown. For years prior to starting I Love Nice People, we often noticed kindness we would encounter in our daily lives. What we noticed more was lack of kindness. We suppose our obsession with kindness, love, and compassion was our way of putting the change we wanted to make in the world, out into the universe.
Our names are Kate Webster and Morgan Krieger, and we have been best friends – we prefer the term soul mates – since our freshman year of high school. When we were 19, we had this crazy idea. One that we are sure others have acknowledged for centuries, yet very few have made a conscious movement to address. We were sophomores in college (Kate at the University of Georgia and Morgan at West Virginia University) and we decided we were going to be two people that reintroduced kindness to the world. A pretty monumental task, huh?
Until that point, we had lived a pretty sheltered childhood. Growing up in Charleston, West Virginia was safe and picturesque. We had, and still have, a great group of friends and family. Our community seemed perfect. We had no real worry other than what we would be doing the upcoming weekend.
Going to college in 2013 was our first true taste of the real world and the harshness that tends to encompass it. It seemed we were constantly encountering impatience and annoyance or at the very least, complete indifference. If by rare occurrence something nice happened to either of us, we would call each other immediately and share the experience. We often noticed other people and their flaws, yet never considered the fact that we might house those same flaws.
That is until one day over Christmas Break 2015. Since we attend different universities, we rarely spend a minute apart when we are home. We were picking up last minute Christmas Eve dinner items for our mother's. We had not a care in the world, bouncing through the parking lot back to our car, when a woman came up to us. She was clearly distressed, and looked like she was on the verge of tears.
"I'm so sorry to bother you," she said. "I accidentally left a car light on while I was shopping and my car died."
Although neither of us had anywhere to be, we both were slightly annoyed this woman stopped us. The audacity!
"Could you help me restart my car?" she said. "I have the cables, it should only take a minute or two."
We stood staring at each other; desperately hoping the other would come up with an excuse as to why we couldn't help. We failed. After what felt like an eternity, we hesitantly agreed to help.
Fast-forward three minutes. Her car started, we learned how to jump a car (a skill two twenty-something year olds should probably have under their belt) and we were on our way.
"We are so nice!" we exclaimed to each other. We were practically patting ourselves on the back for helping this woman. After a few minutes, the car fell silent and we knew we were thinking the same thing. Our initial reaction to helping this woman was absolutely not - we don't want to help. How much unkinder can you get?
We had just portrayed the exact flaw we had been criticizing others for over the years.
"We decided we wanted to help revert human instinctual response toward one another to kindness."
Unfortunately, self-interest appears to have taken over much of the time and we wanted to be part of an effort to change this. It was in that car I Love Nice People came to life.
That night we went home and told our parents about our idea. Their response, although not what we initially wanted, was one that fueled our desire to carry this out. You know when you used to say you wanted to be a pirate or an astronaut, and your parents would look at you head-tilted while admiring your imagination. Yep. That was just about the response we received from our parents. We knew it was out of love and, to be honest, they were just being realistic. We were two 19 year olds with little money to our name pursuing degrees at full time institutions, and no experience running a business. And we wanted to start a non-profit?
"That's a great idea," they would say. However, the look in their eyes sarcastically said, "Rightttt."
As soon as we got back to school, we began to compose sponsor letters. We had made a list of about 20 close friends and family. In our letter, we simply pitched our idea, asked for support and noted any type of donation would be greatly appreciated.
A couple weeks passed and we began receiving checks. Hundreds of dollars made out to us, Kate and Morgan, two college girls with a dream that was quickly becoming reality.
We made $900 dollars from the sponsor letters. We are pretty fearless individuals, but holding that money made our knees buckle. That is when reality set in. There was no turning back.
We let the money sit around for a couple weeks. We said we needed to wait until we were together again to make the next move, but in reality, I do not think either of us knew what to do with it.
We made our way back to Charleston in February. Checks in hand, we confidently marched our way into a bank to set up a joint checking account. Yes. It was as weird as it sounds. The looks we got that day were comical to say the least.
Clerk: How old are you girls?
Us: 19
Clerk: And how can we help you today?
Us: We would like to set up a joint checking account, please!
Clerk: A what? Are you sure?
Us: Yep!
(Our actual thoughts: we have no clue what we are doing but we are going to act confident and hopefully you won't ask us any more questions.)
We walked out of the bank arms linked with smiles on our faces. We were proud owners of our very own joint bank account.
We had the idea of I Love Nice People, but did not know what we were going to do with it. Our main goal was to spread happiness, but how were we going to do that? We spent months drawing up logos (because every company needs a cool logo right?). OK, this is Morgan and I confess, I was completely enthralled by the idea of a logo. Kate was the one who said, "Why don't we just have the name 'I Love Nice People' be our logo?" Brilliant!
So we had our logo, what was next? We had previously talked about a line of merchandise where all of the profits would be donated to an organization that we had partnered with. We hoped that by being exposed to the phrase, I Love Nice People, whether you are passing by it or wearing it, a thoughtful reaction will occur and make you act with kindness in your everyday encounters.
We followed that philosophy and quickly ordered three shirts – the cheapest brand we could find in sizes small, medium and large. All white with I Love Nice People written in black on the front, and our mission statement, "Spreading happiness through the simple act of being nice," written in black on the back. The quality of the shirts was horrid. They were itchy and practically see through when you had them on, but to us they were comparable to the hottest thing off the Spring '15 runway. Perfect!
At that time, I do not think we expected I Love Nice People to go any further than those three shirts. So we did what any 19-year-old-girl would do in this situation: we set up a photo shoot. At least we would have the memories after this was over! We convinced our good friend who doubles as a photographer to take photos of our models and us ("Models," i.e., three friends we dragged along). We passed the shirts between the five of us in the sweltering summer heat and struck a pose.
We literally wore those shirts out. Later in the summer, Kate traveled to Tanzania, Africa to implement HIV/AIDS education. Before she came back home, she gave a shirt to her host mom, Mama Happy. To this day, that is one of our favorite photos.
From then on, a passion ignited from I Love Nice People and it has yet to burn out. We wanted to order more shirts. By this time we knew we needed to source from a different brand with better quality shirts. You do not realize how many wholesalers exist for a simple white shirt until you own a brand based around that perfectly-simple white shirt. Overwhelming is an understatement!
We came across an amazing Netflix documentary called "The True Cost", which sheds light on the horrific labor conditions of fast fashion factories in Bangladesh, and it made our merchandise choice much easier.
"We decided we would not sell clothing that is not made fair trade or in labor conditions we were certain that were safe."
Since those first three shirts, we have upheld to our standards and are really passionate about supporting companies whose ideals align with ours. We have been lucky enough to expand our line to mugs, hats and more!
We briefly mentioned partnering up with different organizations and donating all of the profit made from the selling of ILNP merchandise to those organizations. We do not want to gloss over this topic, because it is what we are most proud of. We have been passionate about certain causes for so long and now we are at a position that we can invest in what we believe in. For example, our home state of West Virginia has one of the highest rates of babies born with Neonatal Abstinence Syndrome (NAS), or babies born addicted to narcotics due to exposure in the womb. This issue is very near and dear to our hearts due to the fact an epidemic has broken out in the town we call home. With ILNP, we are able to make financial contributions to an amazing NAS rehabilitation center located close by. ILNP has given us eyes to see problems far and wide but has also given us hope through the organizations we believe in and support.
It's sometimes hard for us to comprehend what I Love Nice People has evolved into.
"We like to believe the world thirsts for kindness."
We hear stories daily about how wearing an I Love Nice People shirt changed someone's life, but we do not think we ever considered how much our lives would change because of I Love Nice People. We are so much more conscious of our daily actions in life. We have also learned to be more kind to ourselves, because in the end, your reactions toward life circumstances begin with your own well-being.
We still feel like ILNP is a dream. It is a constant reminder that you can do anything that you set your mind to. No task is too monumental for you to take on. Sit down and write that sponsor letter, make a joint banking account, or take whatever step gets you closer to your dreams.
When we started ILNP, we would have never dreamed the company would be where it is today. We are surprised by what has come of it when we look back at every milestone we have reached. We are so thankful for the support and opportunities that have come our way. We are constantly brainstorming future endeavors and will not settle until the world is changed. From the beginning we said our goal was to create more kindness throughout the world. With each advancement in I Love Nice People, we see our goals becoming reality.
You can find more about I Love Nice People on their website, Facebook, Instagram, Pinterest, and Twitter.
Comment your thoughts below, or submit your own story:
Kate Webster and Morgan Krieger