Lauren Schwab and Marissa Vosper | Negative Underwear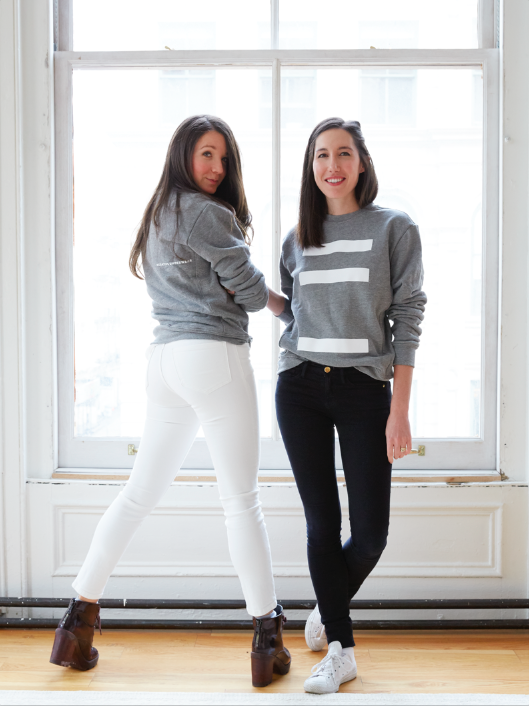 Meet Lauren Schwab and Marissa Vosper, cofounders of Negative Underwear: a lingerie brand that lives by the idea "less is more". Schwab and Vosper give us an inside look into the creation of Negative, as well as share the best advice they've received, where they draw inspiration from, and more.
LFC: Where are you working and how long have you been there?
Lauren Schwab: Marissa and I are the co­founders of Negative Underwear. We launched the business in February, 2014, so technically we're almost 2.5 years old now, though Negative was the result of many years of nights and weekends work behind the scenes before we went live, so it's been more like 6 years all in.
LFC: Is this an industry you knew you wanted to be involved in? How did you go about it?
Marissa Vosper: In lingerie, certainly not. Lauren and I met in college and bonded over a mutual love of all things fashion. That said, neither one of us went into fashion after graduation, so Negative was very much an intentional career change. What drew us to lingerie during that process was actually the fact that neither one of us gave the category much consideration. We realized that for two women who thought so much about what we wore on the outside and the brands we supported, our undergarments were often an afterthought. That realization drove us to examine the category more closely, which is how we identified what we saw / see as a big opportunity.
LFC: At what moment did you realize this was the path you wanted to take?
LS: I can't say there was one specific 'aha moment' because Negative really was a labor of love over the course of many years of hard work. However, when Marissa and I approached building and launching a company, we felt it was important to keep our full time jobs alongside the development process for as long as we could to ensure we had a really well thought out concept ­- and a clear on­ramp to revenue. We didn't actually quit our day jobs until a few months after Negative launched when we truly had proof of concept. We were fortunate to have some amazing press in the Wall Street Journal on the day of our launch, which solidified our intuition that Negative could be a big idea.
LFC: Where do you draw your inspiration from?
MV: A lot of our early inspiration in developing the collection and brand was drawn by looking in the negative space ­- by attempting to do what others were not doing - and questioning what they were doing along the way. The name Negative of course plays upon this idea ­- but it's also how we narrowed in on our aesthetic and brand voice. So much lingerie is antiquated and overdone ­- hyper-embellished with as many bows, ruffles and rhinestones as a small garment can carry. We wanted to get rid of all that and stand out in the process ­- no pink, no lace, no floral ­- just minimalist, luxurious pieces that were a pleasure to wear. That said, there's a fine line between minimalist and boring. So, we're reductionists, but not to the point of losing our point of view. I think that aspect of our brand is inspired by our headquarters and our home ­NYC ­- it's a city full of strong opinions ­- you have to stand for something to stand out here, and we've certainly taken that mentality into business + collection.
LFC: What are some advantages of working in this industry, as well as disadvantages?
LS: As outsiders, Marissa and I have the advantage of questioning the way things are done versus accepting them at face value. As an example, our garments are globally sourced from different individual suppliers around the world who excel at their craft (e.g., hook & eyes from France or elastics from Japan). Most brands would just source everything from one place because it's much more efficient to manage and produce, but in our minds that would be a compromise on quality that we're not willing to give up because we've seen and felt the difference it makes.
In terms of challenges ­- lingerie is an incredibly complex category within the spectrum of fashion. The garments have to fit and function much more than say a t-­shirt or slip dress. The level of complexity in design and in manufacturing limits the world of people you can work with ­ because the skill set is more specialized / more niche. It's been challenging, to say the least, in getting ourselves and our small team up to speed on how to achieve this without the resources of a big brand. We're constantly negotiating minimums, reassessing our size assortment, learning from customer feedback and striving for better.
LFC: What is the best piece of career advice you've received?
MV: Whenever I'm asked this question I always cite a piece of advice I received from a friend who's built his (now large) company from the ground up - always maintain an irrational sense of optimism because if you don't believe in your idea with all your heart, no one else will.
LFC: What career advice would you give readers?
MV: Life is too short to stay in a job that doesn't fulfill you. Once you've worked in a field ­ even for just a few years ­- it can feel like you're tied to a certain, prescribed path, when in fact there are so many career paths out there ­- it just requires the willingness to explore alternatives and make a change. And it's never too late to take a class and learn/try something new ­- night classes or online classes are a great resource to flex your brain without quitting your job.
LFC: As a woman, do you feel that you've had to overcome obstacles that men in the same/similar industries/job roles have not faced?
LS: I absolutely think there are obstacles women face in business that aren't shared by men, though of course I see advantages too ­- making products for women, in a company run by women is a big advantage that a lot of our competitors can't claim. In the manufacturing world specifically, it can feel a bit like an old boys club at the upper levels ­- negotiating minimums with factories, vendors, suppliers, etc. I certainly think the fact that we're two young women can impact the way we're treated, so it's a good lesson in how to be confident and punch above your weight ­- something you have to learn quickly when you're a self-­funded start­up!
We want to hear from you! Comment your thoughts below, or submit your own story here!
Lauren Schwab and Marissa Vosper