Whitney Casey | Finery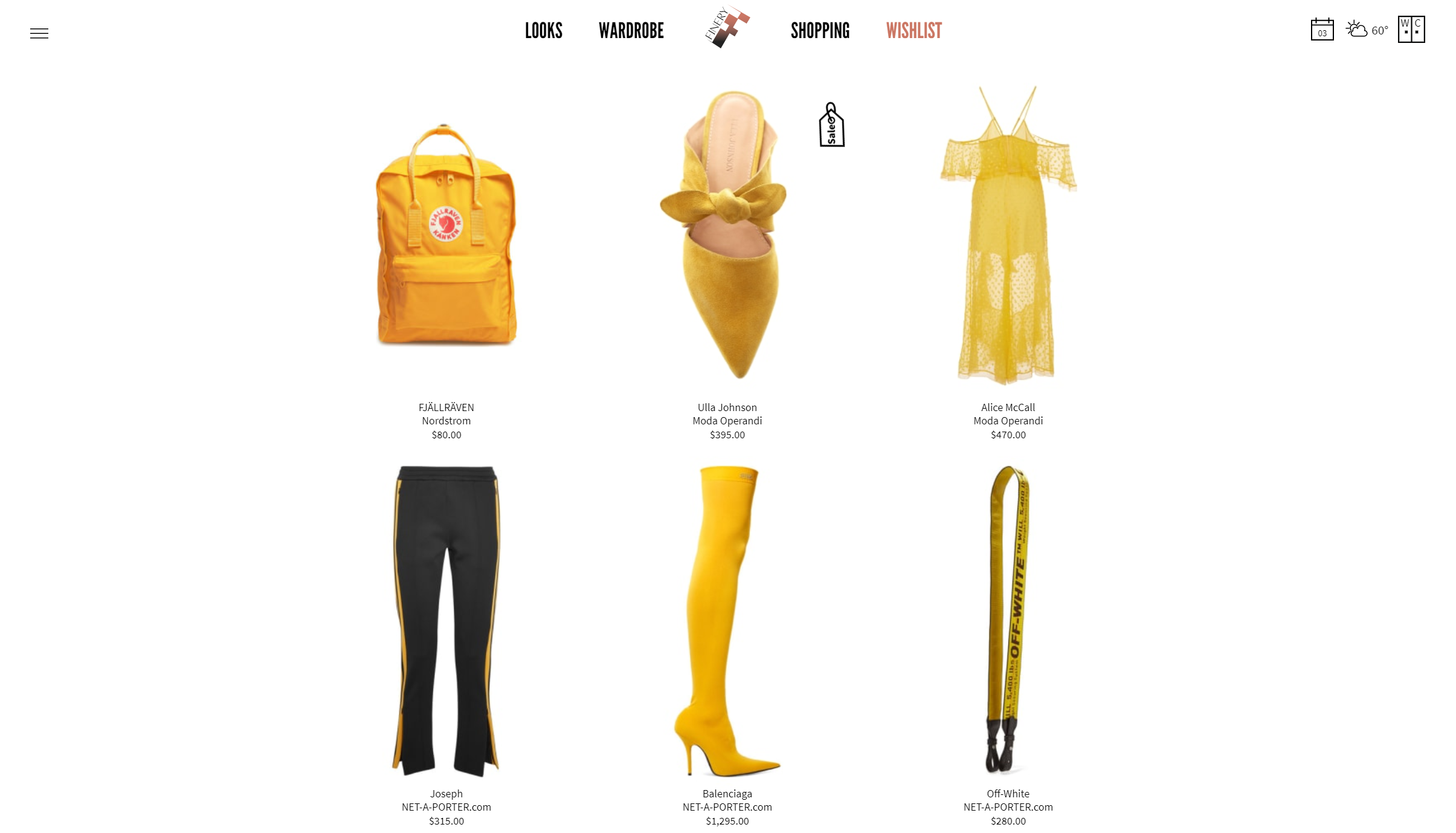 You've combined two worlds - fashion and tech - worlds that people may have never seen merging. What inspired you to take this less traditional route?
Your question sums it up - because why haven't they been merged?!? Getting dressed is something every single person thinks about every single day, whether they love fashion or not. And if you think about the other areas of life where we allocate daily mindshare (not to mention time and money) - deciding what to eat, figuring out how to get from your office to your meeting, planning a trip, managing your finances - they have all been made better through technology, and yet there had been no technology developed to help women get dressed. When I had that realization I knew it was time to merge the two!
What is the biggest myth you want to shatter about women in tech? Why is this message important to you?
Quite simply that they're not cut out for it. When a female in tech walks into the room she has all of these preconceived notions to overcome - that her tech product might be "cute" or "clever" but not disruptive. That she might be the brain behind the idea but not the technology. It's important to shatter these notions because as of now, it creates a barrier to women entering the tech world and inhibits their innovation. Ultimately, women are going to be the ones creating technology for other women because they intimately understand their needs, but right now women shy away from the tech world because they don't have a lot of examples to look up to.
In the past women have been criticized for caring too much about their appearance. We couldn't disagree more. A lot of the time, the clothing we wear empowers us. It shares stories of victories and losses, moments of utter bliss and moments of stress. We look at Hillary and we think of her iconic pantsuit. We look at Leandra Medine of Man Repeller and we think of women taking fashion into their own hands and redefining what it means to dress. What does your wardrobe mean to you?
My wardrobe is a form of self expression, and I approach it like I approach my career. I embrace differentiators and push the limits on one or two items daily. Just like my success, it is NOT effortless. It is full of trial and error, energy, and tenacity. And now with FINERY, it also is a source of calm and means of escape - as odd as that sounds given that I started a digital wardrobe platform and it's all I think about 24/7. Making my looks for the week soothes my mind, I'm telling you. I sit on the couch on a Sunday afternoon while my husband is watching sports next to me, and make looks on FINERY. Having a start-up means your mind is constantly racing, and making outfits is my form of meditation hahaha.
Name a facet of your industries you would like to see changed and why.
I'd like to see more technology being developed for women. There's a huge opportunity to optimize women's lives - while I use and appreciate all of the dining and dry cleaning apps out there, why haven't there been more tools to help women with the gazillion other things they face every day, like managing their households and getting their children back and forth to school and having a career on top of that? That's why I think it's important to have more women in the tech industry in the first place, because they understand these needs.
After a long day at work, how do you unwind?
Tequila or SoulCycle. Opposite remedies. Hahaha. Spicy margaritas (ideally with avocado whisked in if I'm really getting elaborate) are the elixir of life.
If we trailed behind you for a day, what would we see?
You'd see me wake up at 5:30AM (see question #4 re: mind racing - not great for sleep) and cuddle with my rat dog Cowboy before I tackle the day! I prepare to tackle by checking FINERY to remind myself of my outfit for the day, reading theSkimm, and fueling up with a CLEAN cause energy drink (their drinks are all organic and low calorie, but most importantly they donate 50% of profits to alcohol and drug addiction recovery). I'm lucky enough to live 4 blocks from our office so I walk to work (by lucky I mean strategic…). I'm always the first one in so I can get settled and answer emails, etc. before the rest of the team arrives and we dig into the product. Then I am spending the day working with all teams - dev, design, user experience - on strategy and upcoming feature launches. Although depending on what's going on I might never make it into the office in a day because starting a new company means having a LOT of meetings - you have to get out there and learn from others around you and spot new opportunities. Then I go home and probably am mocking up a bunch of wire frames or going back to my emails until the wee hours of the night…. It's HARD work but I LOVE it. Building this company motivates me to no end.
What was one of the biggest business mistakes you've learned from?
I've made some hiring mistakes over the course of my years that I've definitely learned from. First, you should always hire the smartest person, not necessarily just the best for that specific role. So much changes when your company is in its nascent stages, and you need people who can adapt their skills as the company goals and needs change. Second, trust yourself the second you feel that something isn't working out with an employee. If things seem off or someone just isn't the right fit for the company, it doesn't benefit anyone to drag it on instead of shutting things down so both parties can move on!
We've coined the term "entrefemmeur" to describe women who are forging their own paths; taking no shit along the way. What does being an entrefemmeur mean to you?
Being an entrefemmeur means carving a path for droves of future entrefemmeurs! Unfortunately the tech and start-up communities are still rife with obstacles to female entrepreneurs. Until the playing field evens out, we have to take it upon ourselves to support one another. The more women are starting their own companies and going after their ideas, the better the space is for all of us.
To learn more about Finery, check out their website, Instagram, and Facebook.
Comment your thoughts below, or submit your own story: